Looking to rock a trendy and unique hairstyle? Infinity locs are gaining popularity for those seeking a low maintenance yet stylish look. If you're tired of spending hours on your hair every day, try these locs because they offer a versatile and customizable option that will save you time without compromising on style.
Imagine waking up with effortlessly beautiful locs that require minimal effort to maintain. With these gorgeous locs, you can embrace the beauty of this innovative hairstyle and confidently express your personal style. Whether you prefer long or short, thick or thin locs, there are endless possibilities to suit your taste.
As someone who has experienced the joy of rocking these locs firsthand, I can attest to their transformative power. Get ready to discover why infinity locs are taking the hair world by storm.
What are Infinity Locs?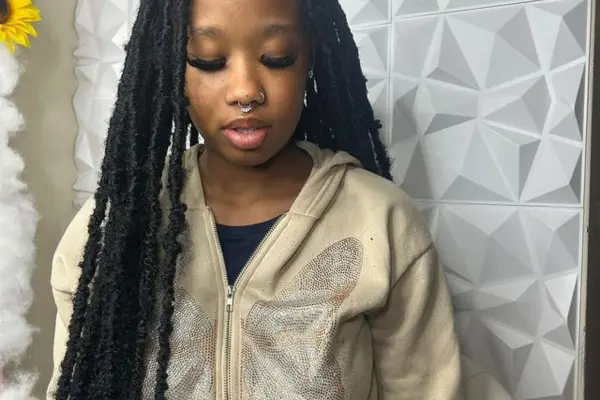 Infinity Locs are a variation of traditional dreadlocks but with a unique twist. They are created by using a crochet method to install the hair extensions, resulting in a more lightweight and natural looking hairstyle. The name "Infinity" comes from the way the locs are looped and interlocked, creating a continuous and seamless flow.
How Do Infinity Locs Differ from Other Types of Locs?
Here's how Infinity locs differ from other types of loc hairstyles: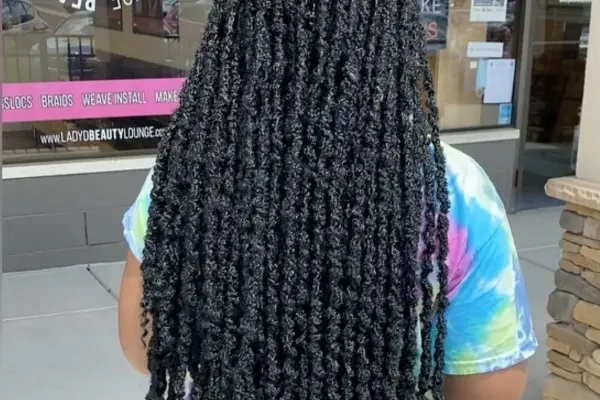 Easy Installation: Unlike traditional locs that require hours of meticulous work, infinity locs can be installed with less time and effort. The crochet braids technique allows for quick attachment of the pre made looped hair extensions, making the process more efficient.
Lightweight and Comfortable: One of the key advantages of these locs is their lightweight nature. Due to the use of synthetic hair extensions, these locs are lighter than natural hair or other types of extensions. This lightweight quality makes them comfortable to wear for extended periods without causing strain or discomfort.
Infinite Styling Possibilities: With these versatile locs, you have a wide range of styling possibilities at your fingertips. Whether you prefer updos, braids, twists, or any other creative hairstyle, these locs can be styled in various ways to suit your preferences and personality.
Unique Look: These stunning locs offer a distinct appearance that sets them apart from other types of loc hairstyles. The combination of the crochet braids technique and pre made looped hair extensions creates a uniform and neat look that stands out in a crowd.
Different Styles and Variations of Infinity Locs
Explore various lengths, colors, and textures to find your perfect style.
From shoulder length goddess locs to waist length bohemian locs, the options are endless.
Experiment with ombre or highlights to add depth and dimension to your infinity locs.
Try different parting techniques like zigzag or triangle parts for a unique look.
There is a world of possibilities waiting for you. Whether you prefer short or long hair, bold or subtle colors, or smooth or textured strands, there's a style out there that will make heads turn. Let's dive into the different styles and variations of infinity locs that can inspire your next hair adventure.
Length: Infinity locs come in various lengths, allowing you to choose what suits your personality and preferences best. You can opt for shoulder length goddess locs for a chic and manageable look. If you want something more dramatic, go for waist length bohemian locs that exude an air of elegance.
Colors: Don't be afraid to play with colors. Alternatively, adding highlights strategically throughout your locs can create depth and dimension that catches the eye.
Textures: The texture of your locs can completely transform your overall style. Smooth and sleek strands offer a polished appearance suitable for any occasion. On the other hand, opting for textured or kinky hair adds volume and creates a bold statement.
Parting Techniques: To truly stand out with your locs, experiment with different parting techniques. Zigzag parts create an edgy vibe while triangle parts add geometric flair. Play around with these techniques until you find one that complements your face shape and personal style.
Styling Ideas for Infinity Locs
Create stylish buns or ponytails with ease using infinity locs.
Add a personalized touch to your locs by accessorizing with beads, cuffs, or wraps.
Experiment with different ways to style your edges or baby hairs for added flair.
Create stunning half up half down styles by leaving some loose strands at the front.
Infinity locs offer endless styling possibilities. With their versatility and options, you can achieve various looks that suit your personal style. Here are some ideas to inspire your creativity:
Achieve Effortless Updos
One of the advantages of these beautiful locs is their ability to effortlessly create updo hairstyles. Whether you prefer a sleek bun or a high ponytail, these locs provide the perfect base for an elegant and polished look. Simply gather your locs into a bun or secure them in a ponytail for a quick and stylish updo.
Personalize with Accessories
To add a unique touch to your locs, consider accessorizing them. Beads, cuffs, and wraps can be used to enhance the overall look of your locs. Choose accessories that complement your outfit or reflect your personality.
Flair for Your Edges
Don't forget about styling your edges or baby hairs when rocking this type of locs. These areas provide an opportunity to add extra flair and personality to your look. Experiment with different techniques such as slicking them down with gel or creating intricate designs using edge control products.
Half Up Half Down Styles
For those who prefer a versatile hairstyle, the half up half down look is a great option. You can achieve this style by leaving some loose strands at the front while securing the rest of your locs in an updo or ponytail. This creates a beautiful balance between an elegant updo and flowing locks, giving you a chic and trendy appearance.
Benefits of Getting Infinity Locs Installed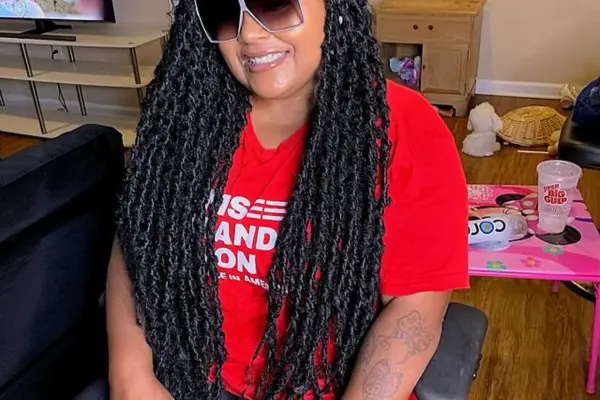 Here, we have mention some advantages of getting infinity locs installed:
Time Saving
Save time on daily hairstyling routines with low maintenance infinity locs. No more spending hours in front of the mirror trying to achieve the perfect hairstyle. With these locs, you can wake up and go, effortlessly looking fabulous every day.
Protective Style
Protect your natural hair from damage caused by heat styling such as hair straightening or chemical treatments. Infinity locs act as a protective style, shielding your delicate strands from harmful practices that can lead to breakage and hair loss.
Versatile
Enjoy the freedom of trying out new hairstyles without compromising on length or volume. Whether you want to rock a high ponytail, a sleek bun, or even experiment with braids, infinity locs provide versatility while maintaining your desired length and fullness.
Low Maintenance
Maintain a neat and polished look for an extended period with minimal effort. Infinity locs require little maintenance compared to other styles. Simply follow a basic care routine, including regular washing and moisturizing, to keep your locs looking fresh and well groomed for weeks on end.
Conclusion
Now that you know what infinity locs are and how they differ from other types of locs, it's time to embrace their beauty and explore the endless possibilities they offer. With different styles and variations available, you can truly express your unique personality and style. Whether you prefer long, flowing locs or shorter, more intricate ones, there's a style out there that will make you feel confident and empowered.