Looking to embrace a trendy and versatile hairstyle that will make heads turn? Bohemian Butterfly Locs, also known as Boho Locs, are the perfect choice for those seeking a unique and eye-catching look. Inspired by the free-spirited bohemian style, these crochet locs offer a fresh take on traditional protective hairstyles for fashion-forward black beauty bombshells.
Boho Butterfly Locs are not limited to any specific hair type; they can be rocked by anyone looking to express their individuality. Whether you have natural hair or prefer extensions, this crochet faux locs type can be customized to suit your desired length, color, and thickness.
With their intricate crochet braiding technique and stunning butterfly-like appearance, Bohemian Butterfly Locs add a touch of beauty and playfulness to your overall look. It's a great way to spend some time and install a new hairstyle.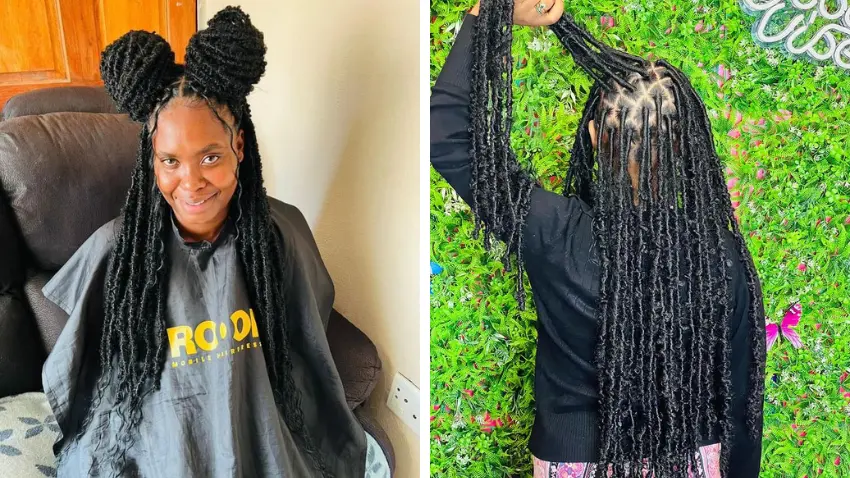 Say goodbye to mundane hairstyles and hello to an effortlessly chic vibe with Boho Butterfly Locs. These crochet locs are a beautiful way to install a new hairstyle and can be done in no time. So get ready to unleash your inner beauty and embrace the timeless bohemian spirit.
Achieving the Distressed Look for Bohemian Butterfly Locs
To achieve the desired distressed look for your Bohemian Butterfly Locs, there are a few key beauty techniques you can try. By following these steps, you'll be able to create a unique and textured appearance that will make your locs stand out.
Gently Pull Apart Sections of Locs: Start by gently pulling apart sections of your locs to create a distressed effect. This can be done by using your fingers or a crochet hook. By separating small sections and tugging them slightly, you'll add texture and dimension to your locs.
Use a Crochet Hook for Natural-Looking Texture: To enhance the natural-looking texture of your distressed locs, consider using a crochet hook. With this tool, you can carefully pull individual strands of hair through different parts of the locs, creating an organic and undone appearance.
Incorporate Different Lengths and Sizes of Locs: To add even more dimension, incorporate different lengths and sizes of locs throughout your hairstyle. This variation will contribute to the distressed look by giving it an uneven and eclectic feel.
By following these simple steps, you'll be able to achieve beautifully distressed locs that capture the essence of bohemian style. Have fun experimenting with different techniques and embrace the unique texture that comes with these trendy boho butterfly locs and distressed locs hairstyles.
Remember some key points, when it comes to achieving the distressed look for Bohemian Butterfly Locs:
Gently pull apart sections of locs
Use a crochet hook for natural-looking texture
Incorporate different lengths and sizes of locs
You can also watch bohemian butterfly locs tutorial:
Styling Ideas and Inspiration for Bohemian Butterfly Locs
Experiment with various updos, braids, and half-up styles. Whether you're looking for a casual everyday look or something more elegant for a special occasion, there are plenty of styling options to try with your bohemian butterfly locs. Here are some ideas to get you started: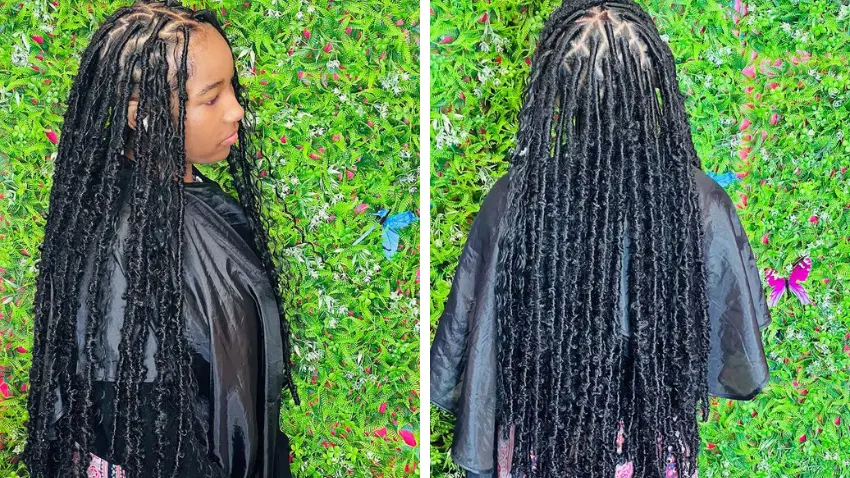 High Bun: Gather your locs at the crown of your head and twist them into a neat bun. This sleek and polished style is perfect for formal events or when you want to keep your hair off your face.
Boho-inspired Fishtail Braid: Divide your locs into two sections and weave them together in an intricate pattern. This romantic hairstyle adds a touch of whimsy to your overall look.
Relaxed and Carefree Vibe: Opt for a half-up style where you gather the top section of your locs and secure it with a colorful scrunchie or hair tie. This versatile look can be dressed up or down depending on the occasion.
Add colorful accessories like beads or feathers to enhance the bohemian vibe. Bohemian butterfly locs are all about expressing yourself through unique and eye-catching details. Here's how you can take your style to the next level:
Colorful Beads: String colorful beads onto individual locs for a playful pop of color. Mix and match different bead sizes, shapes, and colors to create an eclectic look that reflects your personality.
Feathers: Incorporate feathers into your hairstyle by attaching them near the roots of locs using small hair clips. The feathers will sway gently as you move, adding movement and texture to your overall style.
Explore different parting techniques to create interesting patterns. One of the advantages of bohemian butterfly locs is their versatility. Get creative with these techniques:
Zigzag Part: Instead of sticking with straight parts, try a zigzag pattern to add visual interest. Use the end of a rat-tail comb to create alternating diagonal parts throughout your scalp.
Triangle Part: Divide your locs into triangular sections using a rat-tail comb. This geometric parting technique creates a unique and edgy look.
Curved Part: Experiment with curved parts that follow the natural shape of your head. This soft and organic parting style complements the bohemian aesthetic.
With these styling ideas and inspiration, you'll be able to rock your locs with confidence and flair. Have fun experimenting with different looks and make them truly your own.
Lightweight Design for Comfortable Wear
Crafted with lightweight materials to minimize strain on the scalp, bohemian butterfly locs offer a fashion-forward solution for those seeking lighter hairstyles. These locs are ideal for individuals who prioritize comfort and ease of movement throughout their day.
With their lightweight design, bohemian butterfly locs provide a refreshing alternative to heavier hair extensions. By reducing the burden on the scalp, wearers can enjoy a comfortable experience without compromising on style. The use of lightweight materials ensures that these locs do not weigh down or strain the head.
Bohemian butterfly locs are the perfect choice for those who value both aesthetics and practicality. They enable wearers to effortlessly incorporate vibrant colors into their look while maintaining all-day comfort. Whether it's a casual outing or an important event, these lightweight locs allow individuals to express their personal sense of style without feeling weighed down.
In addition to their comfort and versatility, boho butterfly locs save time. Their lightweight nature makes them easier to handle during the styling process, reducing the overall time required for application. They require minimal upkeep compared to other hairstyles.
Edge-Friendly Construction for Less Damage
Designed with rounded edges, bohemian butterfly locs ensure a gentle installation process that won't snag or pull on delicate hairline areas. By minimizing tension on the edges, these locs reduce the potential for damage or breakage, making them an excellent choice for those seeking a protective style that promotes healthy hair growth.
The rounded edges of these locs offer several advantages during installation. Firstly, they prevent snagging and pulling, which can be particularly problematic around the hairline where the strands are finer and more susceptible to damage. With these locs, you can rest assured that your hairline will remain intact and unharmed.
By minimizing tension on the edges, bohemian butterfly locs provide a safer alternative to traditional styles. Tension is a leading cause of hair breakage and damage, especially when it concentrates on specific areas such as the edges. These locs distribute tension evenly throughout your scalp, reducing the risk of any localized stress that could lead to unwanted consequences.
Furthermore, bohemian butterfly locs serve as a protective style that allows your natural hair to flourish. While wearing these locs, you can enjoy a break from daily styling routines that often involve heat or chemical treatments.
Handmade Options for Unique Bohemian Butterfly Locs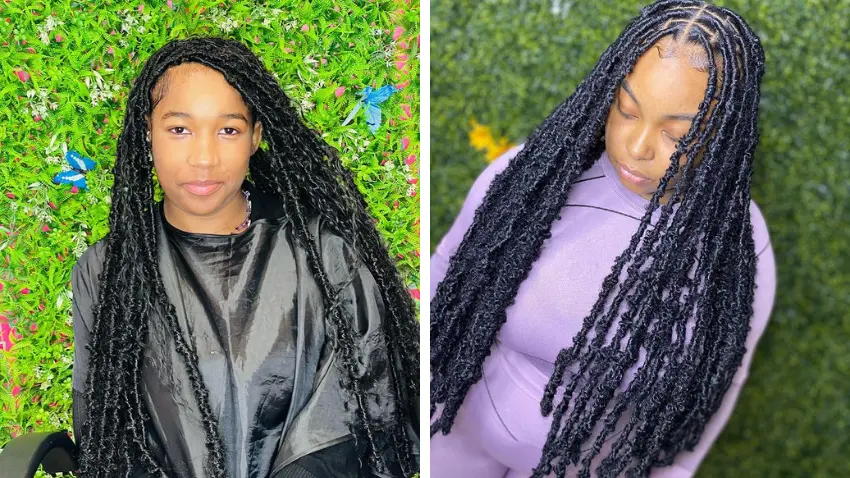 Looking to add a touch of individuality to your style? Consider trying out bohemian butterfly locs, handcrafted by skilled artisans who pay close attention to detail and quality craftsmanship. These unique locs are one-of-a-kind, ensuring that you'll stand out from the crowd with your own distinct look.
By choosing handmade bohemian butterfly locs, you not only express your personal style but also support small businesses. Many talented sellers on different platforms offer a wide range of crochet locs that are meticulously created by hand.
Here are some reasons why handmade options for bohemian butterfly locs are worth exploring:
Attention to detail: Skilled artisans take the time and effort to create each set of locs with precision and care. This ensures that every strand is perfectly crafted, resulting in a high-quality finished product.
Uniqueness: Since these locs are made by hand, no two sets will be exactly the same. You can embrace your individuality and showcase a style that truly reflects your personality.
Supporting small businesses: By purchasing handmade bohemian butterfly locs from independent sellers, you directly contribute to their livelihood. Your support helps them continue creating beautiful pieces and sustain their passion for their craft.
So if you're looking for an accessory that combines artistry, uniqueness, and ethical sourcing practices, consider exploring the world of handmade boho butterfly locs available through various online shops and platforms.
Conclusion
So what are you waiting for? Dive into the world of bohemian butterfly locs and unleash your inner goddess. These versatile locs will not only enhance your natural beauty but also give you an air of confidence that is truly unmatched. Get ready to turn heads wherever you go with this unique and eye-catching hairstyle.
FAQs
Can I wash my bohemian butterfly locs?
Yes. It's important to keep your bohemian butterfly locs clean to maintain their freshness. Use a gentle shampoo and conditioner designed specifically for synthetic hair extensions. Be sure to rinse thoroughly and allow them to air dry completely before styling.
How long can I wear my bohemian butterfly locs?
The duration depends on various factors such as how well you take care of them and the quality of the installation. With proper maintenance, you can enjoy your bohemian butterfly locs for up to 6-8 weeks before needing any touch-ups.
Can I swim with my bohemian butterfly locs?
Yes, you can still enjoy a dip in the pool or ocean with your bohemian butterfly locs. However, it's essential to protect them by wearing a swimming cap or tying them up in a bun to prevent excessive exposure to chlorine or saltwater.
How do I style my bohemian butterfly locs at night?
To keep your locs looking fresh overnight, tie them up in a satin or silk scarf before going to bed. This will help prevent frizz and maintain the shape of your locs. In the morning, simply remove the scarf and fluff your locs gently with your fingers for a fabulous look.
Can I color my bohemian butterfly locs?
While it is possible to color your bohemian butterfly locs, it is recommended to consult a professional stylist who specializes in synthetic hair extensions. They can guide you on the best approach and ensure that the coloring process does not damage or weaken the integrity of your locs.