Ginger locs are so hot right now. More and more people are rocking this fiery hair color in loc form. If you're thinking of trying ginger locs yourself, you're in the right place. We'll break down what ginger locs are. The top styles too. And how to care for your fiery 'do. You'll get tips for blending ginger with other colors and see how good they can look on different skin tones. Male and female ginger locs inspo included.
Dyeing your natural locs ginger can be tricky. We've got you covered with steps for coloring them safely. Want to go faux? We have got extension tips. By the end, you'll be ready to decide if ginger locs are the perfect new 'do for you. We will explain the pros and cons of ginger locs. Let's start.
What are Ginger Locs?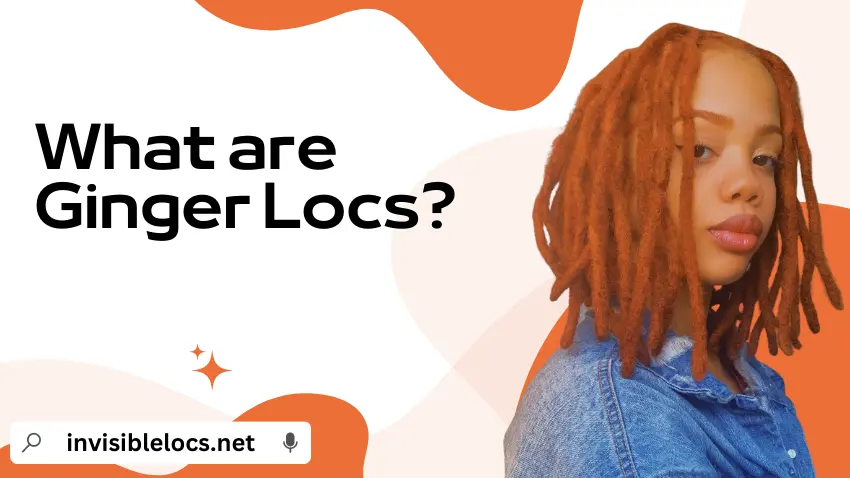 Ginger locs get their name from their spicy reddish-orange color. This bright copper hair color is created by dyeing the locs a ginger shade. Locs are a hairstyle where hair is twisted or braided into individual locs or locks. Ginger locs form when natural locs are dyed a vibrant ginger hue. Or when faux locs are installed in a ginger color.
The locs keep their thickness, ropelike texture. But they get a bold, fiery makeover thanks to the ginger dye job. This orangey shade is bolder than a subtle strawberry blonde. But it's not as intense as a vivid red. Ginger works well on locs because it shows up brightly against black hair. The locs does not lose their natural texture and volume. The color only adds personality.
Compared to solid black locs, ginger locs deliver more dimension. As your locs shift and move, the color looks more dynamic. Almost like flickering flames on your head.
Top 17 Ginger Locs Hairstyles
Ready to see the most popular ways to rock ginger locs? We're breaking down 17 fiery ginger loc styles that are trending now. From faux to crochet, ombre to butterfly, there are so many options. Some ginger loc styles are better for natural hair. Others work great with loc extensions. We'll explain which is which. Find a best one from the variety of styles.
1. Ginger Faux Locs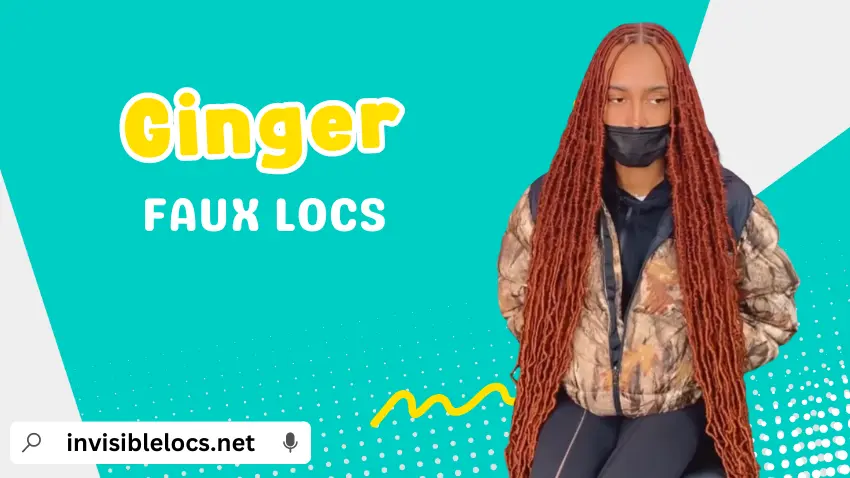 Ginger faux locs are a popular protective style. Faux locs use synthetic hair extensions wrapped around your natural hair. It offers the loc look temporarily without true locking or commitment. Ginger faux locs give you a spicy pop of color. The extensions come pre-colored in vibrant ginger shades. So you get bright copper locs without dyeing your real hair.
Installation takes a few hours. But lasts 6-8 weeks with proper maintenance. Ginger faux locs are versatile too. Wear them long, short, or add accessories like cuffs or beads. Faux locs work with all hair types and textures. The extensions hide your real hair. So, you can get a bold new look. No need for a big chop if you're not ready.
Ginger faux locs allow you to try the most current ginger ombre and ginger highlight trends. Without the damage of bleaching your natural locs. Any event coming up? Ginger faux locs give you instant style for a night out. Then remove them when you want your old look back.
2. Ginger Orange Locs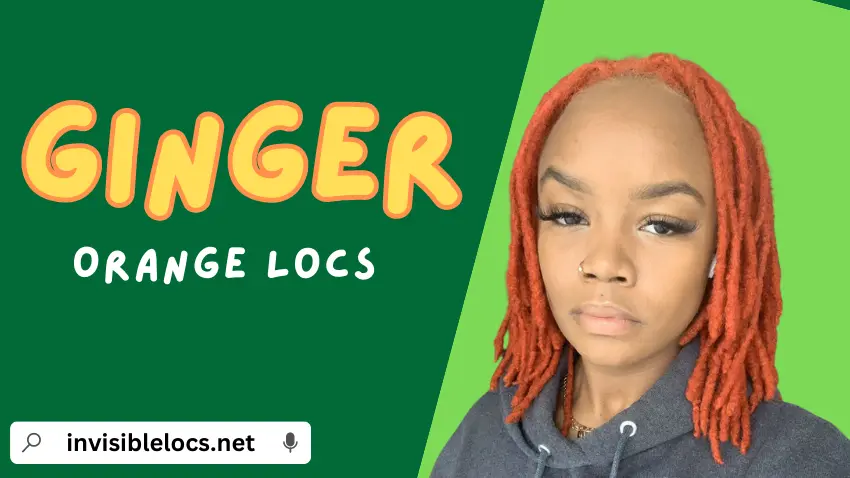 For locs with serious spice, go for a bold ginger orange shade. This bright, coppery orange color packs a punch. Achieving a vivid ginger orange on locs requires bleaching first. This lifts your natural pigment so the color shows up bold.
Use a high quality ginger orange dye for locs. Adore and Manic Panic make great semi-permanent options. They last 4-6 weeks. Ginger orange is fun, fiery, and full of personality. Rock this hot hue at music fests all season long. The texture of locs helps the ginger orange shade really pop. It grabs attention no matter how you style them.
When touching up your ginger orange locs, use color protecting shampoo and deep conditioner. Keep them hydrated. Let the sassy ginger orange locs do the talking. Keep your makeup and accessories minimal.
3. Ginger Butterfly Locs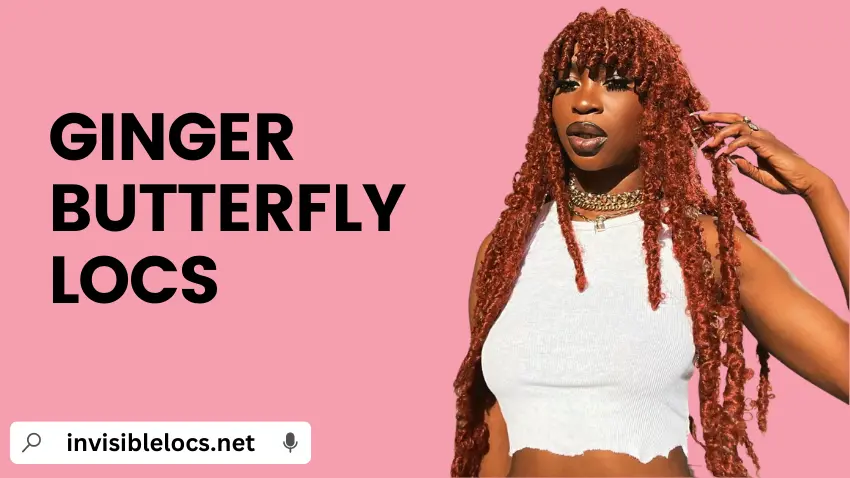 The butterfly loc style is gorgeous with ginger color. This style parts the locs down the middle. Then fans them out to resemble butterfly wings. To get the look, part ginger locs in the center. Then twist each section away from your scalp into two ponytails.
Gently pull on the ponytails to fan out the locs. Secure with elastics to complete the butterfly shape. This works great on medium to long length ginger locs. The locs framed around the face create a flattering look.
Also, long butterfly locs draw the eye up and highlight your best facial features. Flaunt your cheekbones with this loc style. You can rock ginger butterfly locs half up, half down too. Pull back just the top section for a pretty lift.
4. Ginger Soft Locs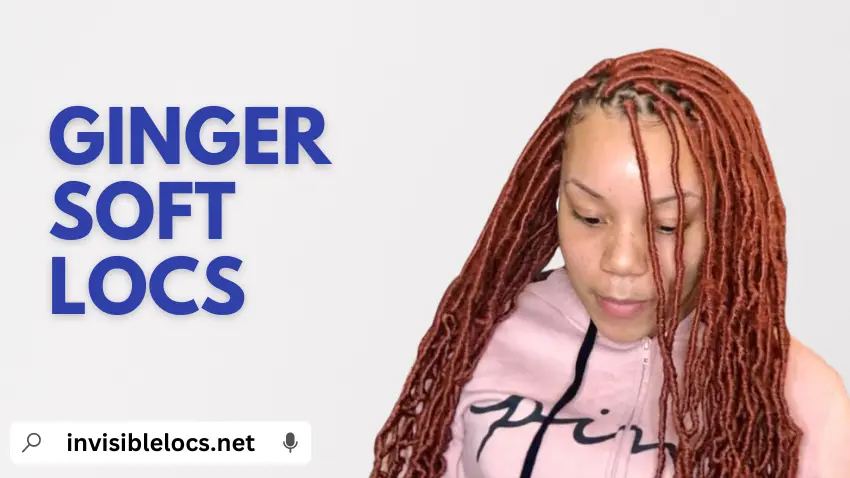 Ginger soft locs have a more minimal, undone look. This trendy hairstyle give off a chill, effortless vibe and It's a relaxed ginger loc style. To get soft locs, have your loctician section hair into larger locs. About 30-40 total works best.
Soft locs should be palm rolled loosely. Don't over-twist or retwist too tightly. The looser coils and fewer number of locs give a relaxed feel. Ginger soft locs fall softly around your shoulders. This style allows your natural curl pattern to show through. Let your texture shine.
Ginger soft locs are perfect for those with busy lives. Less maintenance than tight, traditional locs. Soft locs work well on looser curl patterns. But all hair types can rock this low-key ginger style.
5. Ginger Colored Locs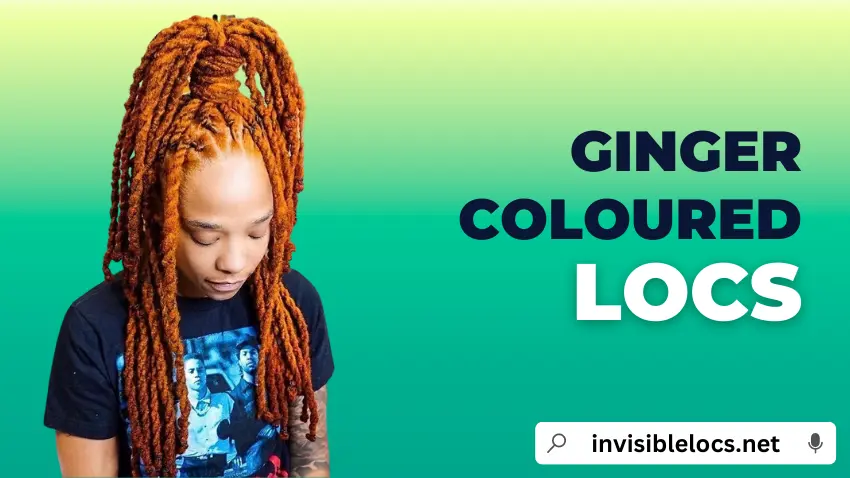 Not into high-maintenance ginger locs? Try subtle ginger colored locs instead because this look adds just a hint of ginger to dark locs. Your hair color stays mostly natural. To get the look, add ginger permanent dye to your conditioner. Co-wash locs with the mixture. The diluted ginger color lightly deposits on each loc. This gives a soft ginger tone.
Let the conditioner sit for 20-30 minutes before rinsing for more color deposit. Ginger colored locs are perfect if you want to test the waters first. Or keep touch-ups easy. The hint of ginger adds shine and dimension but doesn't require heavy processing.
6. Ginger Distressed Locs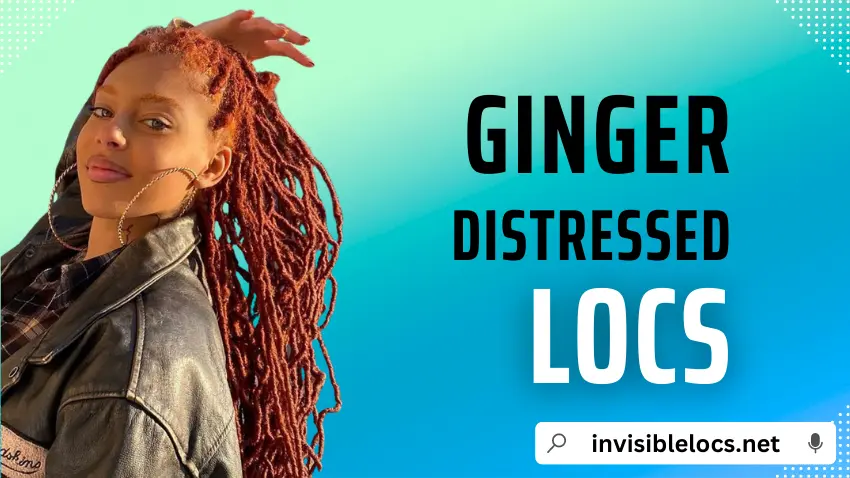 Ginger distressed locs have an imperfect, undone look. The locs appear loose, frayed, and lightly tangled. To get the distressed loc style, have your loctician palm roll the locs loosely. Avoid tight coils. Style ginger distressed locs with your fingers. Twisting or braiding makes them look too put-together. Let your ginger locs loop, bend, and knot naturally. Don't be too neat or precise.
Distressed locs are perfect if you want low maintenance. Less retwisting needed with this style. The distressed look works with short, medium, or long ginger locs. Add hair jewelry for an extra punch. Embrace the perfectly imperfect ginger distressed loc look. It's relaxed glam at its best.
7. Ginger Goddess Locs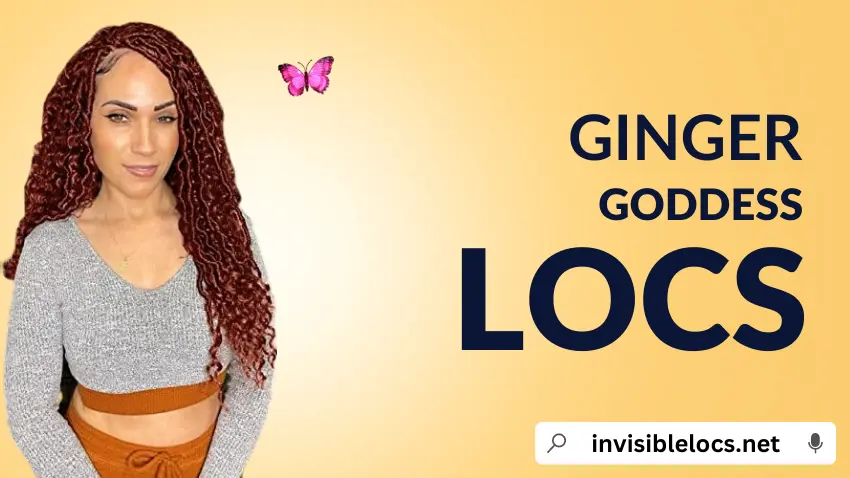 Ginger goddess locs exude majestic, divine vibes. This style embrace your inner royalty. Get the look by installing jumbo faux locs in long lengths. Go for 16-22 inches for real drama. Style ginger goddess locs in big, loose curls. Or keep them stick straight for a sleek effect.
The long lengths and bold ginger color make a statement. These locs command attention. Complement your ginger goddess locs with a regal outfit. Dramatic makeup optional. For special occasions, accessorize with gilded hair jewelry. Show off your crown. Channel your inner queen or goddess with these stunning ginger locs. Slay.
8. Ginger Blonde Locs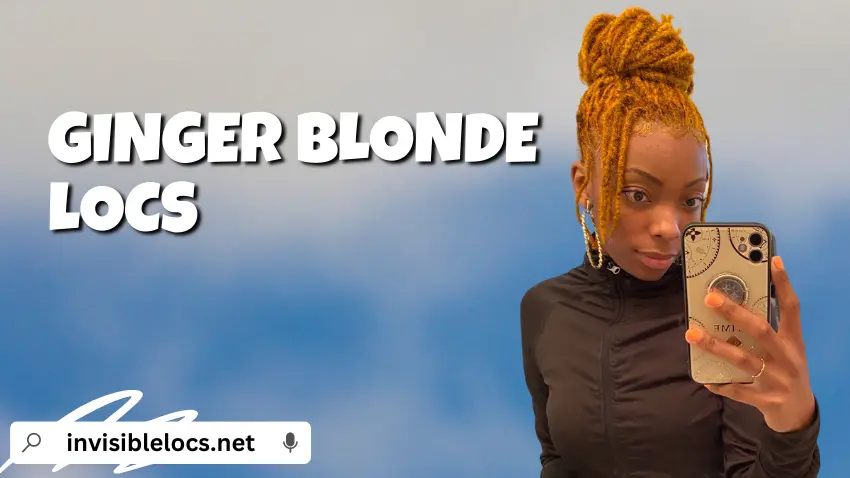 Want a lighter ginger loc look? Try ginger blonde locs. The blonde mellows out the bold ginger. Get the look by bleaching then applying a ginger blonde dye. Redken makes a good one. The blonde softens up the fiery ginger and it makes a unique combo that's spicy yet sweet.
Ginger blonde locs are flirty and fun and are perfect for summer or a beach vacay. Use blonde ginger loc extensions if you don't want to damage your real hair. Keep brassiness away with purple shampoo. It will keep ginger blonde locs fresh.
9. Ginger Crochet Locs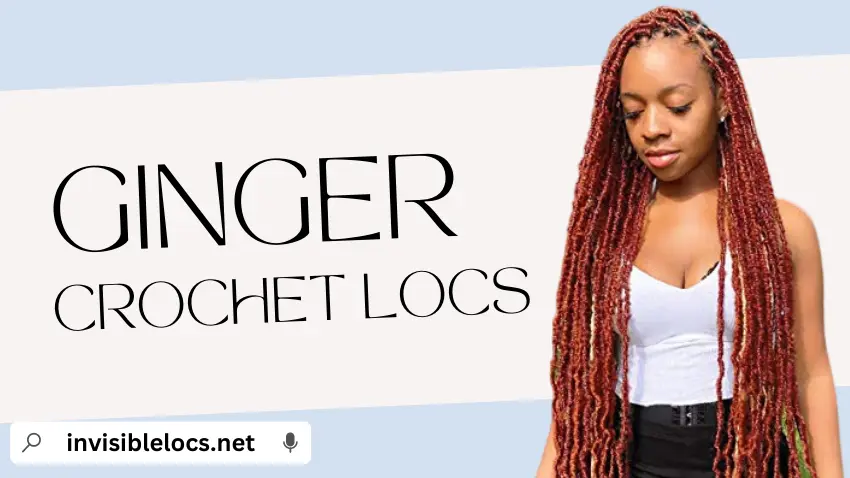 Ginger crochet locs use the crochet needle method to install locs. This creates a seamless, natural loc look. The loctician parts out sections of hair first. Then inserts the crochet needle and pulls a loc through. Synthetic ginger kanekalon hair is attached when pulling through to create an instant ginger loc. Crochet locs allow you to go ginger temporarily without hair damage. Loc removal is quick too.
The crochet method doesn't twist, coil or compress hair. This prevents breakage and shedding. Ginger crochet locs have a soft, fluffy texture. And they hang perfectly down the back. Let your loctician know which size you want, small locs size or medium locs size. Big ones may slip out.
10. Ginger Hair Locs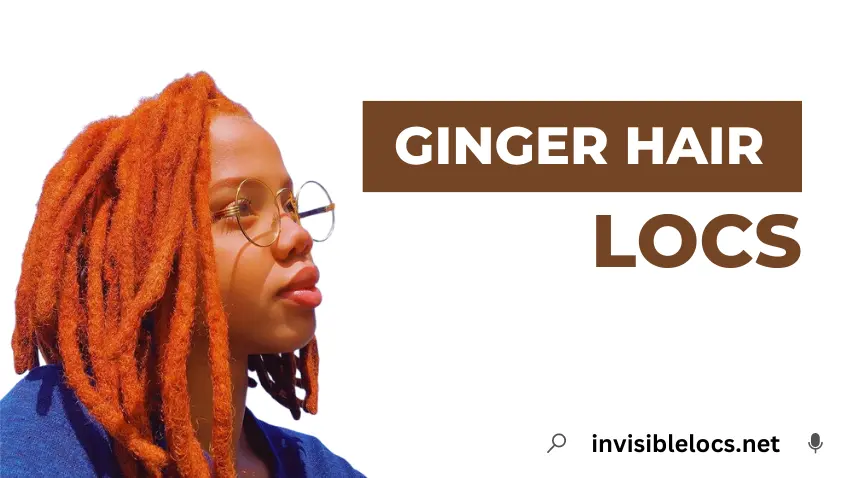 Already have ginger hair? Lucky you. Now just loc it. Instant ginger locs. If you have natural red or strawberry blonde hair, locs will enhance the color. The locs will twist your ginger strands together. Creating dimension and texture. Make sure to use sulfate-free ginger shampoo and conditioner. Hydrate color treated hair.
Dyeing your ginger hair locs can bump up the vibrancy. But be gentle with processing. For brighter ginger hair locs, do coconut oil soaks. And deep condition often. Embrace your natural ginger hue. Let your locs show off your beautiful color.
11. Ginger Starter Locs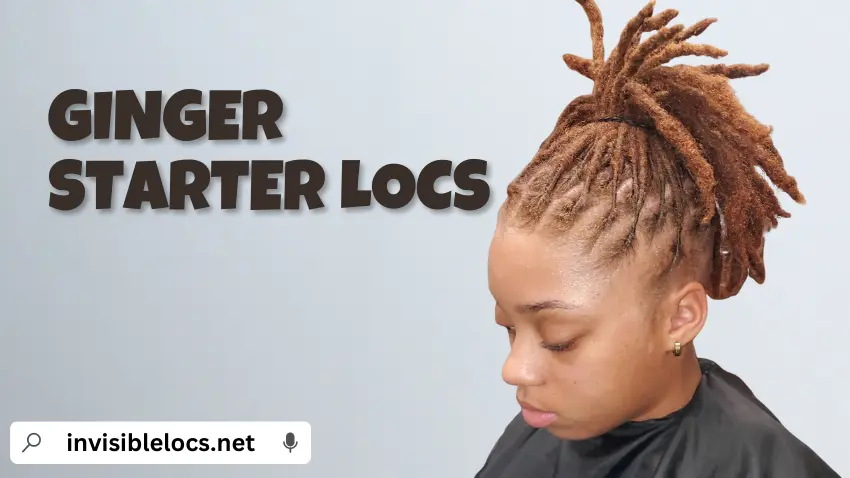 If you're just starting your loc journey, go ginger. Ginger starter locs are fabulous. Either dye your buds-to-be ginger before installing. Or get faux ginger starter locs. Your loctician parts hair into sections then coils new locs at the root. With ginger starter locs, the color shows through right away. No growing out phase.
The stage while locs begin maturing can be awkward. Ginger helps them look fab. Don't over-twist new ginger starter locs. Let your texture and pattern show. Focus on nurturing the health of new ginger locs. Patience through the starter phase.
12. Ginger Dyed Locs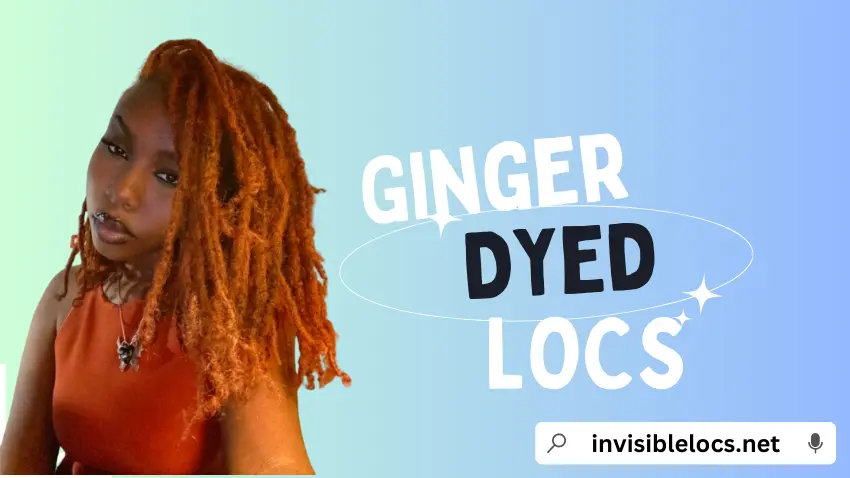 Want to go ginger temporarily? Dye your natural locs. It's less commitment than virgin ginger locs. Make sure locs are at least 6 months or half an year old before dyeing. Mature locs absorb color better. Bleach first to lift underlying pigment if your hair is dark. Then apply ginger dye. Use professional salon ginger dyes like Matrix or Redken on your locs. Avoid box dye.
Ginger dyed locs fade faster than virgin ginger locs. Expect your color to last for a period of 28-42 days. Touch up the ginger when you notice it looking brassy or dull. Use color protecting shampoo. Have fun with temporary ginger color. Change it up whenever you feel like a new look.
13. Ginger Crochet Faux Locs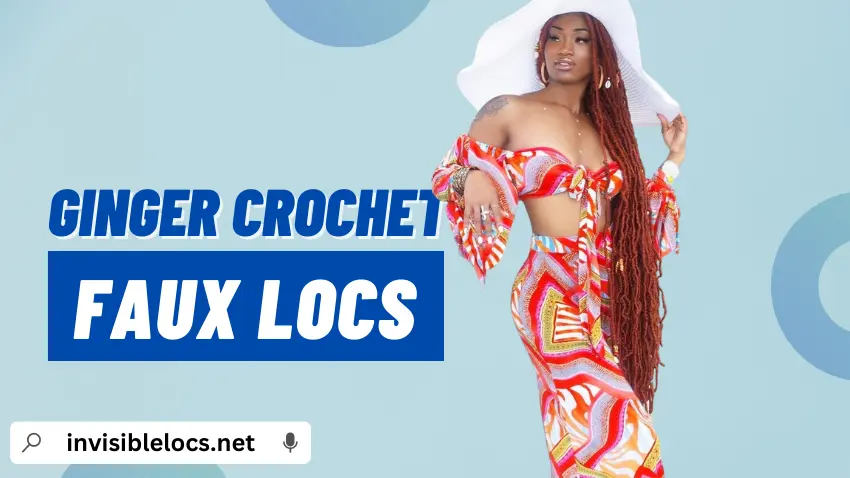 Ginger crochet faux locs combine crochet installation with synthetic hair. Get the loc look without commitment. Your loctician sections out hair, then crochets the faux ginger locs in and this process is gentle on your natural hair. Use a medium loc size so they don't slip out easily. Go for 18-22 inch lengths for dramatic style.
Ginger crochet faux locs create a seamless, natural looking install. And you can switch colors when you want. The crochet method doesn't require twisting, tension, or pulling that can damage your natural locs long term. Enjoy the ease of installing and removing ginger faux locs as needed and have fun mixing up your style.
14. Ginger Ombre Locs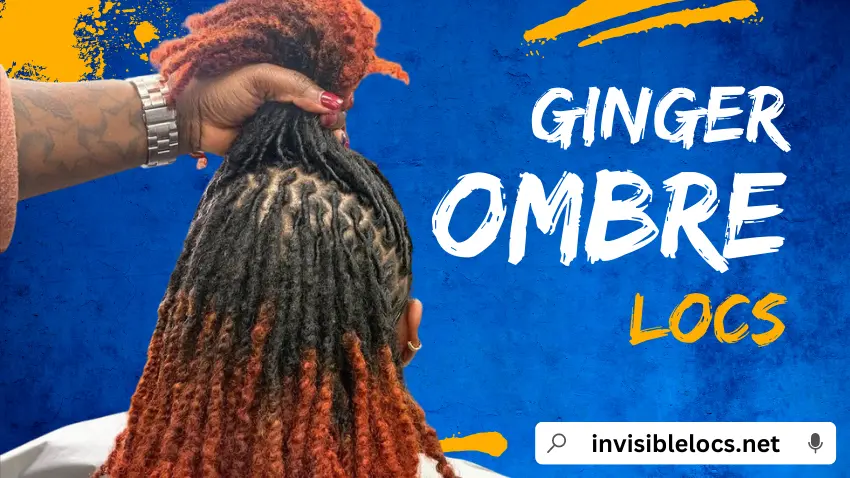 Ginger ombre locs fade from bold ginger at the top to natural black ends and the effect is gorgeous. To get the look, bleach loc ends to lift color. Apply ginger dye only to the top half of locs. Let the ginger fade into your natural black gradually down the locs. No harsh lines.
Ginger ombre locs work on short hair or long waist-length locs and the color contrast adds dimension. On curly locs, the ombre blends softly. Straight locs show off a more striking color change from root to tip.
Refresh the ginger ombre every 6-8 weeks as needed. Use color-protecting conditioner to keep locs hydrated. The ginger ombre fade creates a fun highlight effect you can rock these hot locs all summer long.
15. Ginger Bob Locs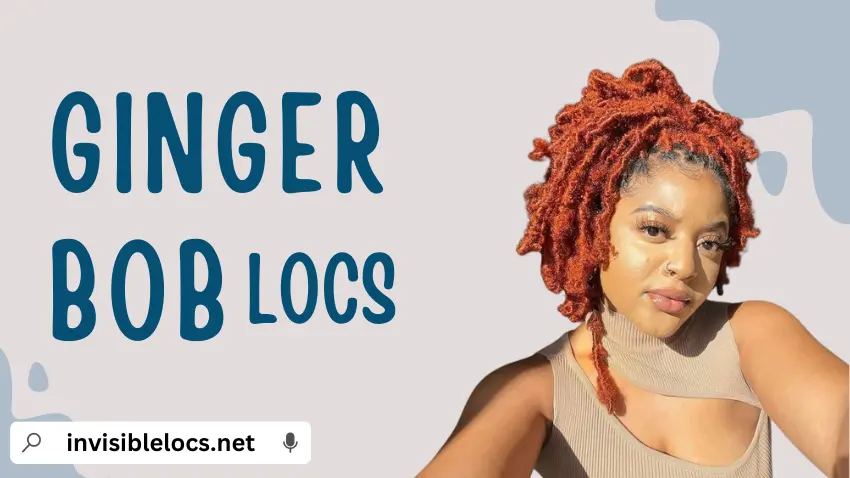 For short and sassy ginger locs, get a chin or shoulder-length bob cut. A ginger bob pairs perfectly with a blunt cut end. Ask your loctician for the cut. The weight of long locs can make them stretch over time. Bobbing helps locs keep their shape. A ginger bob flatters oval, heart and diamond face shapes best. Show off your jawline.
Use layered sideswept bangs or a deep side part to soften a ginger bob cut. Style your new ginger bob locs flipped under, curled, or piecey and messy and have fun with it. A ginger bob cut lets you rock short locs without doing a big chop. Stay bold.
16. Ginger Colored Faux Locs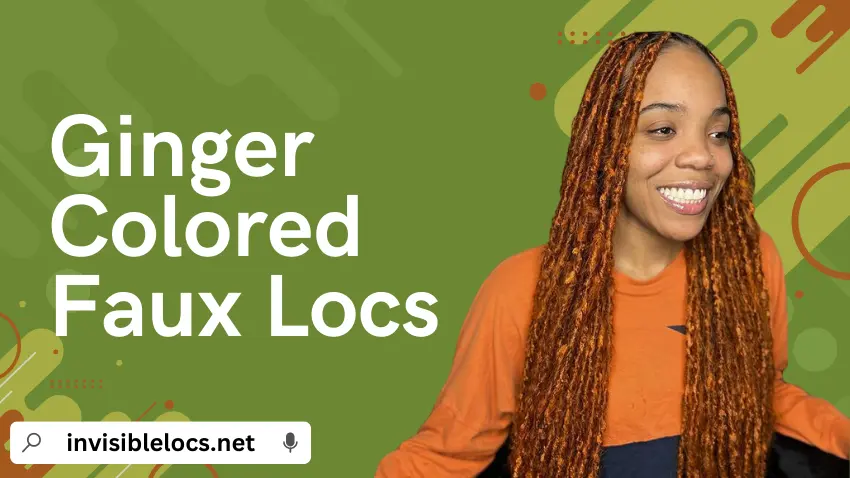 Love the ginger loc look but not the upkeep? Go for ginger colored faux locs. Faux locs use synthetic hair, so you can get vibrant ginger color without dyeing your own hair. The extensions have spicy ginger shades like copper, cinnamon and pumpkin spice. Install ginger colored faux locs with the twist method or crochet method. Either creates a natural look.
Faux locs allow you to try bolder ginger hues without the damage of bleaching real locs. Ginger colored faux locs last 6-8 weeks with proper care. Refresh the style or color anytime. Play with fun accessories like gold cuffs and beads on your ginger faux locs. Go bold.
17. Ginger Sister Locs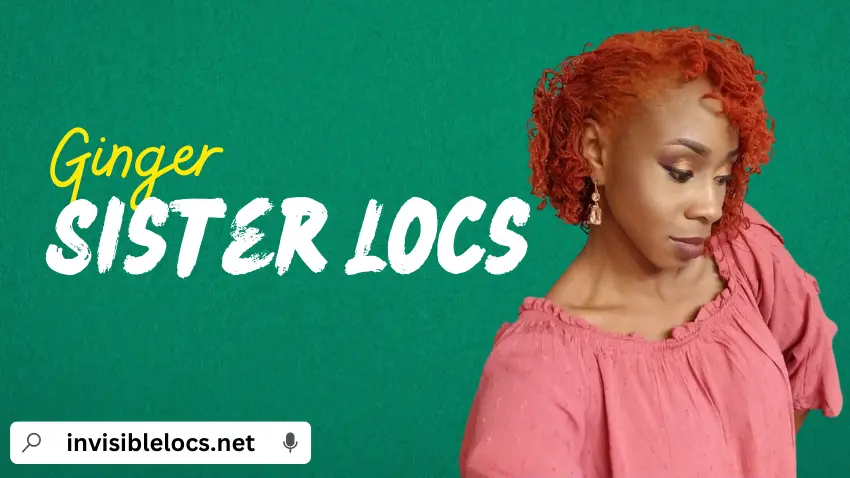 For petite, flirty locs, try sister locs in ginger. These thin, mini locs are too cute. Sister locs form by stitching natural hair into dozens of tiny coils. Then letting them lock over time. A loctician parts hair meticulously to section strands for coiling. Be attended because attention to detail is key. The tiny coils give tons of volume and make ginger sister locs bouncy, playful and fun.
Secure loose hairs back with bobby pins while new ginger sister locs lock but you have to be patient. Style ginger sister locs in pigtails, space buns or braids. Show off the cute coils. Rock your ginger sister locs with pride. People will be jealous of your mini locs.
Blend of Ginger Locs and Other Colors
Ginger locs look amazing and simple blended with other colors too. Light browns, blondes and reds make great combos. Adding lowlights, highlights, tips or an ombre effect creates dimension. Your ginger locs will really stand out. We'll cover the hottest mixes like ginger and blonde, ginger and red, and ginger and pink. The secondary color softens the bold ginger or makes it pop even more. Consider them and select the one according to your beauty choice.
Ginger and Blonde Locs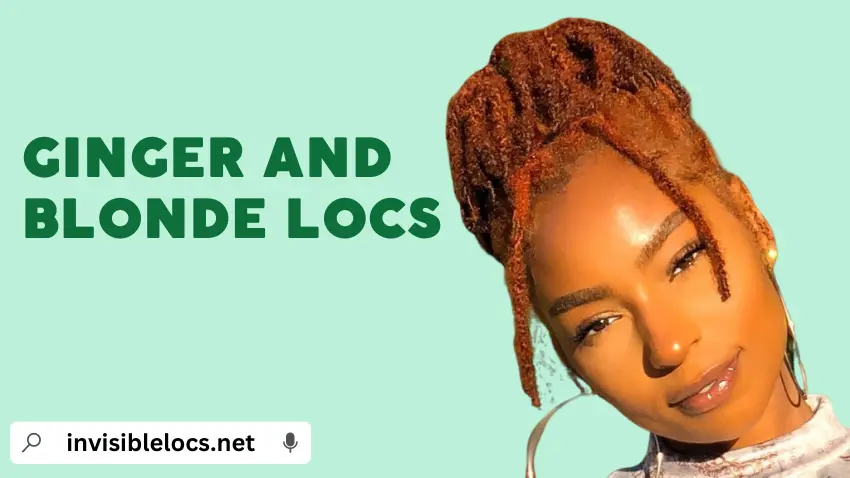 Ginger and blonde locs are totally trending because this duo looks beachy and fun. Get the look by bleaching the lower half of your locs first. Then apply blonde dye. Leave your natural roots ginger for 1-2 inches of regrowth. Blend with balayage technique. Use purple shampoo on ginger and blonde locs to prevent brassiness. Tone it down.
For temporary color, do faux ginger locs on top and faux blonde on bottom. No bleach damage. Leave some pieces entirely ginger and others solidly blonde for dimension. The blonde mellows out the fiery ginger. It's relaxed but still spicy. Rock this blend.
Ginger and Red Locs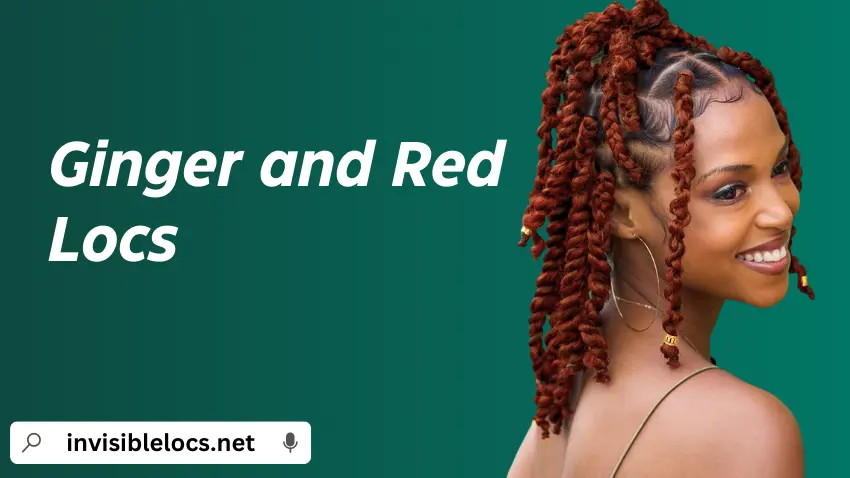 Amp up your ginger locs with rich red lowlights or tips. Choose a bold red hue like burgundy, garnet or violet-red. Reds with cool undertones pair best. Bleach loc ends to lift underlying pigment first. Apply your favorite red dye. Use a color-melting balayage technique to blend ginger and red seamlessly. No harsh lines.
Try red color spray first to test out this zesty combo. Test drive it. Ginger and invisible locs are daring and eye-catching with the combination of red locs. Strut your stuff with this fierce combo. Nurture your color treated locs with repair masks and argan oil. Keep your texture smooth.
Ginger and Pink Locs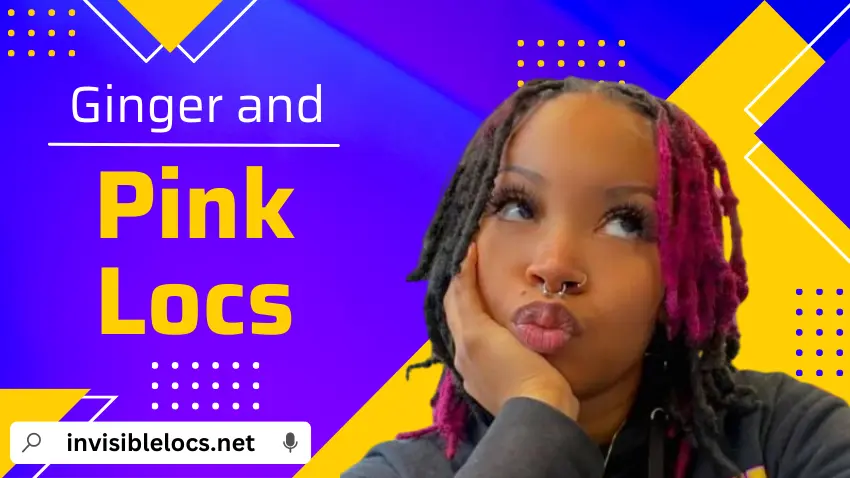 For a flirty, feminine vibe try ginger locs with pink. This soft duo is oh-so-pretty. Pastel pinks complement ginger loc color beautifully. Try shades like rose, petal or ballet pink. Bleach the lower half of your ginger locs first. Then apply the pink dye. Use a balayage technique and don't saturate all the way to the roots. Leave some ginger peeking through.
Style big, loose curls in your ginger and pink locs to show off the colors. The pink softens up the ginger and adds major dimension. Nurture bleached locs ends with leave-in conditioning spray. Keep your texture smooth.
Ginger Locs on Different Skins
Ginger locs look beautiful on all skin tones. From deep dark skin to very fair skin, this fiery hue pops. Get inspired to go ginger no matter your skin shade.
Ginger Locs on Dark Skin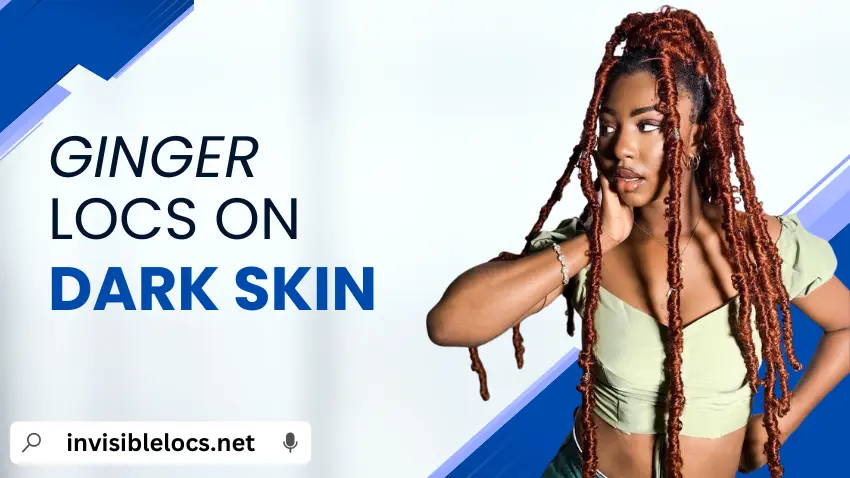 The bright ginger color shows up vividly against darker skin tones, hence it makes a gorgeous contrast. Braided styles and big curly ginger locs stand out beautifully. Show off the glow of dark skin with Long ginger locs. The drama is accentuated. For short styles, add stylish accessories.
Ginger Locs on Brown Skin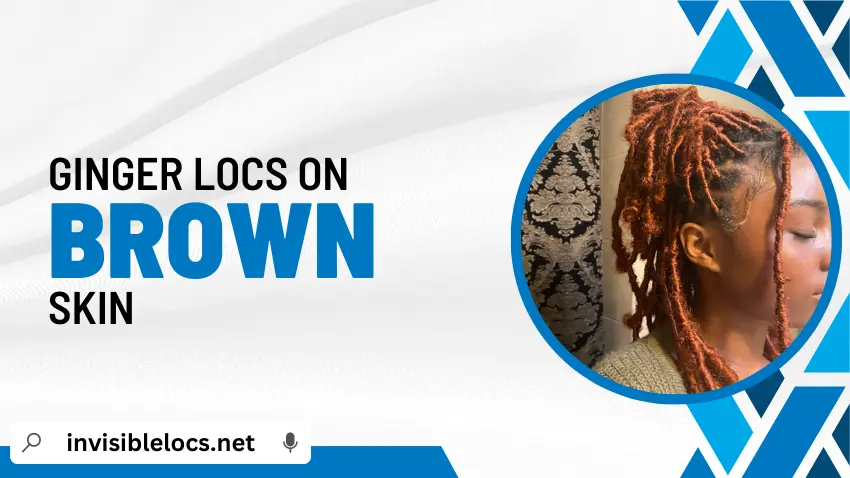 On medium brown skin, ginger locs appear soft and warm. Boho vibes. Think tousled, beachy waves with peekaboo ginger pieces. The brown and ginger blend seamlessly. Its earthy glam perfection. Add honey blonde pieces for more dimension.
Ginger Locs on Light Skin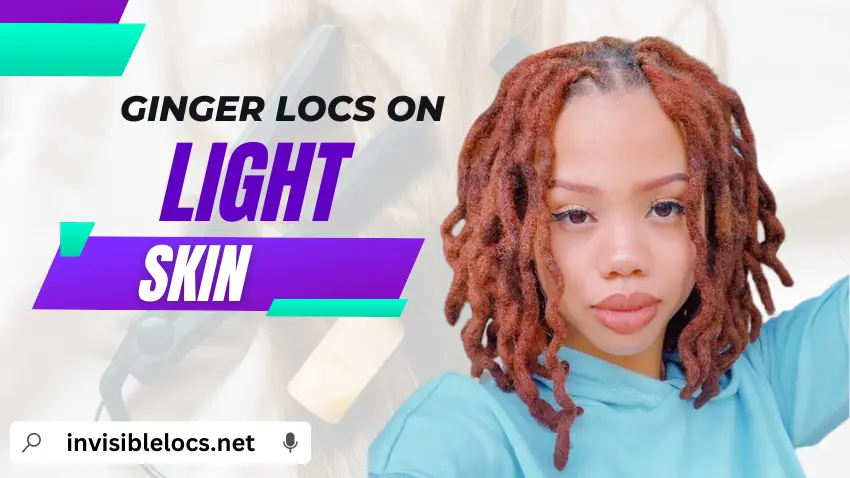 Fair skin really makes the ginger pop. Go for all-over color or try ginger money piece highlights framing your face. Pastel ginger or creamy ginger blonde keep the look soft. While still making your locs the star on light skin.
Ginger Locs for Different Individuals
Ginger locs look amazing on all genders and races and this vibrant hue suits so many. Check out these sections on rocking ginger locs as a male or black girl. Get inspired to be bold.
Ginger Locs for Male
Ginger locs are hot on men and this attention-grabbing color exudes confidence and swagger. Short ginger loc styles like a buzzed caesar or messy textured crop are super fresh. Go for an all-over ginger color.
For longer ginger locs on male, embrace your natural texture. Twist-outs and braid-outs show off those coils. A ginger ombre fade is also a cool option for the guys. Keep your natural color up top blended into ginger ends.
Ginger Locs for Black Girl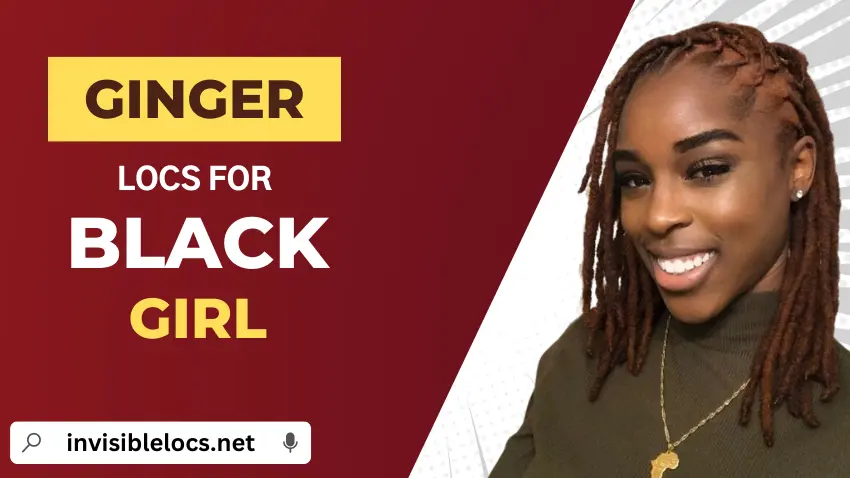 Black girls, don't sleep on ginger locs because this fiery hue looks gorgeous on darker skin tones. Long ginger locs with cuffs and beads take your style to the next level. Play up the drama.
For a cute short 'do, ask for a tapered cut with ginger curly bangs. Frame your face flatteringly. However you style them, embody confidence and power with your ginger locs, black queen.
How to Dye Ginger Locs?
Want to dye your natural locs a vibrant ginger shade? It is important to follow these steps to color your locs safely and get salon-worthy results. Everything you need is strong nerves and confidence.
Dyeing Ginger Locs
Step 1: Clarify and cleanse locs first. Start with hair that's free of buildup and oils for best color results.
Step 2: Bleach your locs using professional salon bleach powder and developer. Lift underlying pigment.
Step 3: Rinse out bleach and condition hair well with a hydrating mask. Nourish locs.
Step 4: Simply towel dry locs. Apply your chosen ginger permanent dye quickly while hair is damp.
Step 5: Let the ginger dye process for 25-35 minutes. Don't exceed 45 minutes max.
Step 6: Rinse ginger dye thoroughly until water runs clear. Follow with a color-sealing conditioner.
Step 7: Style and show off your bright new ginger locs. Repeat dyeing every 4-6 weeks to maintain color vibrancy.
Dyeing Ginger Locs without Bleach
Step 1: Pick a vivid ginger dye designed for unbleached hair. Adore and Manic Panic have great options.
Step 2: Wash and towel dry locs to remove oils and product buildup. Apply dye to clean, damp hair.
Step 3: Part your locs into sections and use a tint brush to coat every loc from root to tip with ginger dye.
Step 4: Cover hair with a plastic cap and let the ginger dye sit for 1-2 hours, checking occasionally.
Step 5: Rinse thoroughly until water runs clear. Follow with color-protecting conditioner.
Step 6: Air dry your ginger locs completely. Avoid heat styling to keep color vibrant.
Ginger Locs Extensions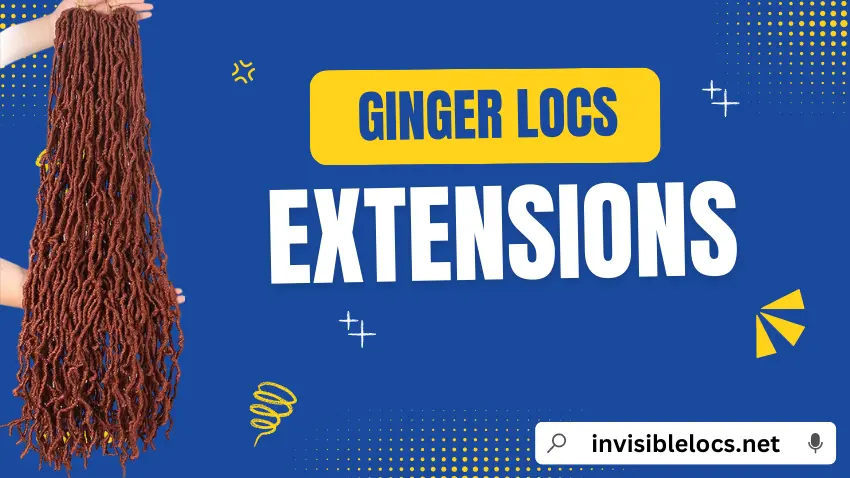 Want to try the ginger loc look without the commitment? Go for extensions. Ginger loc extensions instantly give you a bold new style without damaging your real hair. Choose either synthetic fiber extensions like kanekalon for faux locs. Or human hair for realism.
Kanekalon fiber comes pre-colored in vivid ginger shades from copper to pumpkin spice and more. For human hair, have your loctician custom color with permanent ginger dye to your desired hue. Install ginger loc extensions yourself with the twist method. Or have a pro do crochet method.
Ginger loc extensions allow you to quickly change your look. Go short or long, thick or thin anytime. Refresh your ginger loc extensions every 6-8 weeks. Re-install a new set or re-twist existing ones.
Ginger Locs Maintenance and Care
Ginger locs require some extra TLC. Properly nurture your colored locs so they stay healthy. Proper maintenance keeps the color glowy.
Use a sulfate-free shampoo and conditioner for color treated hair. Keep your ginger locs moisturized.
Deep condition once a week to add moisture back. Let a hydrating mask soak in for 30 minutes.
Always use a heat protectant before hot tools. Limit use to reduce damage from styling.
Sleep on a satin pillowcase at night. The smooth fabric won't cause friction and breakage.
Get a trim every 8-12 weeks to snip away split ends before they travel up the loc.
Refresh your ginger color whenever it starts looking dull or brassy. Stick to professional dyes.
Pros and Cons of Ginger Locs
Pros
Make a bold statement with shining color
Compliments dark skin tones beautifully
Easily change up your look
Attention-grabbing and unique
Faux locs allow you to experiment with no commitment
Looks great styled in braids, twists, curls etc.
Cons
Requires bleaching and dyeing and this damages hair
Root touch-ups needed as your natural color grows in
The bright color can fade quickly
Must avoid chlorine and salt water to protect color
Requires heat styling and this causes fading and dryness
Not as low maintenance as virgin natural locs
Conclusion
As you can see, there are so many ways to rock ginger locs. Short, long, braided, curly and more. Ginger locs look beautiful on all skin tones and hair types too. This color flatters everyone. While high maintenance, the pros outweigh the cons. Ginger locs let you make a bold statement. If you're ready to stand out from the crowd, go for it, join the ginger loc squad and give your opinion.
FAQs
What is the best color to dye dreads?
Vibrant ginger is one of the best colors for locs because it shows up great on dark hair and looks edgy.
Does dying dreads damage them?
Yes, dyeing locs can damage them over time, so use professional products recommended by your stylist to minimize damage. And deep condition often.
Does coloring locs damage hair?
Coloring locs can cause some damage, especially bleaching. Be gentle, use repairing treatments, and avoid over-processing to keep locs healthy.
How often should I recolor my locs?
Plan to refresh your ginger loc color every 4-6 weeks. Too soon risks damage, too late fades vibrancy.
What is the safest way to dye your locs?
Using professional salon ginger dye and avoiding over-processing is the safest way to color locs. Limit bleaching when possible.